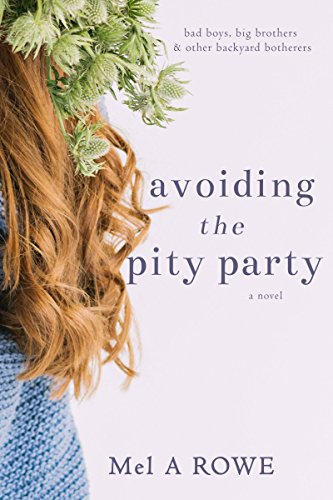 Avoiding The Pity Party : Mel A Rowe
Avoiding The Pity Party
Where witty complications and comedic chaos occurs when you find yourself stuck living with your quirky family…
Deanne Harrison wants to hide from the world after shattering her fairytale romance by publicly outing her cheating fiancé in the middle of her own wedding. Then, while trying to suffer in silence during her honeymoon of heartbreak at home, Deanne is forced to deal with a bad boy issue, her big brother, and her bridesmaids, in a freakish family intervention.
Just when she thinks she's got it all together, Sean, a handsome stranger she'd deliciously kissed once, re-enters her life. More dating disasters are the last thing Deanne needs. Yet, amidst the chaos of comedic proportions, they discover a secret saboteur is threatening to destroy Deanne.
Can Deanne save the family business, break a clan-conjured-curse, all while avoiding Sean, her big brother, Jimmy, and the rest of the backyard botherers?
If you enjoy quirky characters and witty complications that test the routines of daily life, you'll love Avoiding the Pity Party, where surviving the break-up blues in suburbia can be filled with inspirational heartfelt fun!
"If you're looking for a good book, I recommend you buy this book immediately." Goodreads
"A fun weekend read or a great book for the beach." Goodreads.
Book Links
Website
Facebook
Twitter
Instagram
Amazon Author Page
On Amazon
More Great Reads: