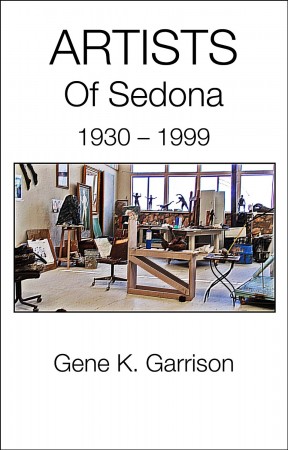 Artists Of Sedona, 1930—1999 : Gene K. Garrison
Artists Of Sedona, 1930—1999
Artists of Sedona is a narrative art history book about successful artists who lived, or currently live, in the beautiful small town of Sedona in northern Arizona in Red-Rock Country.
It covers an exciting period from 1930 when a young man named Bob Kittredge and his brother, Dan, roared into the area on a Harley Davidson motorcycle. A tiny Asian ape called a gibbon clung to the back of the driver. A baby coyote was tucked away somewhere. Bob became a sculptor of note.
A dynamic artist from Egypt, Nassan Gobran, set off an explosion of artistic activity. His energy, determination, education and talent changed the direction of the town. An apple-packing barn was became the Sedona Arts Center. All sorts of creative classes were held, painting, sculpture, ceramics, as well as art shows and plays. It truly became the social center of the area.
The Cowboy Artists of America met at a local bar and formed what became a well respected organization. Joe Beeler, Charlie Dye, George Phippen, and John Hampton made it all happen.
All over town you can see monumental and life-size sculptures by Joyce Killebrew, Susan Kliewer, John Waddell, Clyde Ross Morgan,  John M. Soderberg, PhD,  James Muir, Leslie B. DeMille who also does portraits, and Ken Rowe.  Paintings by Joella Jean Mahoney, Stephen Juharos, Jeffrey Lungé, Adele Seronde,  Jan Sitts, Bearcloud, M. L.  Coleman and a couple of movie poster artists who became fine artists—Zoe Mozert and Frank McCarthy who also qualified as a Cowboy Artist of America member. An outstanding artist in another medium is Holy Stedman who makes her magic happen in glass.  Bonnie Burkee is an etcher, photographer, sculptor, and painter. Nancy Robb Dunst is an installation artist.
Gene K. Garrison, a writer with an extensive arts background, has her own ideas about how to write history. She writes in a narrative, insightful style, and uses anecdotes as well as professional credits to introduce readers to the fine artists of Sedona.
She explained it this way: "I don't want the book to be of interest only to artists. I want to make it so interesting that even people who ignore art will want to turn the pages." She has done it before in There's Something About Cave Creek (It's The People), Widowhood Happens,  From Thunder to Breakfast, and a childrens'  book titled Javelina (Have-uh-WHAT? as well as approximately 560 magazine articles.
Book Links
Website
Authors Den
Amazon Author Page
On Amazon
More Great Reads: