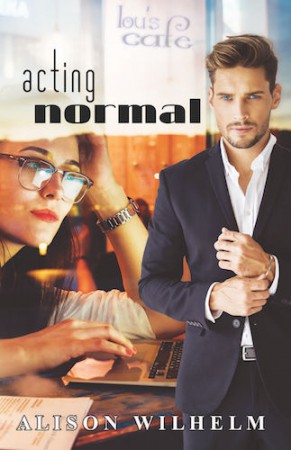 Acting Normal : Alison Wilhelm
Acting Normal
Twenty-eight-year-old Abby Wood loathes celebrities. Unfortunately, she lives in New York City, where the flashes of their perfect smiles are everywhere. All she wants to do is write a novel and live a relatively drama-free life.
While spending another weekend at Lou's Café typing on her trusty laptop and dreaming of a better life, Abby crosses paths with drop-dead gorgeous actor Logan West. Desperate to escape a pack of screaming female fans, Logan comes into Lou's to hide and then sits down at her table.
Before she knows it, Abby is being whisked off in a car with a man who soon makes it clear that he is attracted to her. Although Abby does her best to keep Logan at arm's length, it isn't long before he works his way into her life-and her heart. Now she must decide whether she can remain true to herself and her passion for writing while becoming involved with a man who embodies everything she dislikes.
In this contemporary romance, a novelist standing at a crossroads in life faces the biggest choice of her life as her destiny awaits her next move.
Book Links
Website
Twitter
Amazon Author Page
On Amazon
More Great Reads: