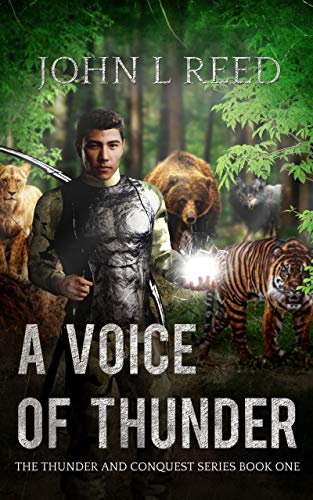 A Voice of Thunder : John L Reed
It's a time of broken nations and unchecked power. The Cataclysm, a merging of two separate earths, one of science and technology and another of magic and mysticism, has lain waste to the world order, broken the laws of physics, and unleashed the wrath and power of the Horsemen of the Apocalypse onto the world.
In a remote section of Northern California, Alaric Winters is torn between his desire to serve a greater purpose by joining the Illutu Order in their fight against the Horseman, and his loyalty to his parents and their military Compound where he serves.
But his mother's kidnapping removes all doubts about his priorities. He will get her back, no matter the cost.
Commanding a small strike team of shapeshifters, Alaric tracks the kidnappers through a wild landscape populated by alien beings out of humanity's mythology at best, and monsters out of their nightmares at worst. Their journey will take them from the halls of political power to the seedy underbelly of organized crime, and face to face with the very person who caused the Cataclysm, and broke two worlds for personal gain.
Book Links
Website
Facebook
Twitter
Amazon Author Page
On Amazon
More Great Reads: