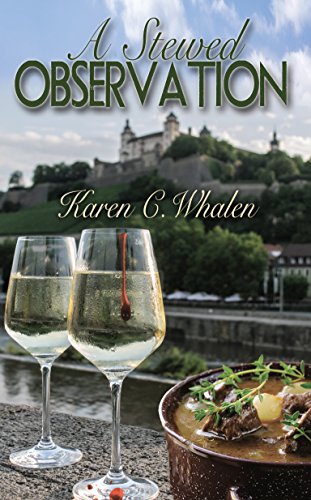 A Stewed Observation : Karen C. Whalen
A Stewed Observation
A Stewed Observation is the fourth book in a culinary cozy mystery series.
In Stewed, the Gourmet Dinner Club travels to Ireland to enjoy Irish cuisine while staying at a medieval, ivy-covered castle.
Jane hopes Dale will ask her to marry him at this romantic dream destination. But her plans are put on hold when the elderly owner of the castle becomes violent, one of the club members tries to restrain him, and he collapses and dies. The police believe the mysterious death is murder and begin to suspect one of the club's members.
Dale leaves for home on a business emergency, and as the lone single gal in the club full of couples, Jane is thrown into the company of the handsome Irishman who stands to inherit the castle. Jane must prove her friends innocent by solving the crime.
The gourmet dinner club wanted a vacation. Instead, they're trapped in the middle of a murder mystery, while Jane uncovers which one of the sweet-tempered Irish could be a callous killer.
Book Links
Website
Facebook
Twitter
Pinterest
Amazon Author Page
On Amazon
More Great Reads: