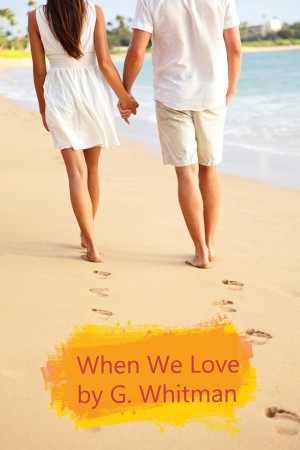 When We Love : G. Whitman
When We Love
"I care about you Lauren, but I can't just jump back into things with us. Look you needed time, now I need time."
"Time for what?"
"Time to figure out if I can trust you. I'm not a part-time guy. When I love and care about someone, I give myself completely. That's what should happen when we love someone."
"Hank please…"
Lauren's life has been about her job teaching and raising her daughter. When her daughter goes off to college, Lauren finds herself alone for the first time in years. Now when she finally takes time for herself, she meets a local painter, Hank Waters.
Hank Waters loves to paint and when his creative juices don't flow, he shell fishes. The women he meet are usually interested in one thing- money. When he meets Lauren, she's like a breath of fresh air. Someone who shows some interest in him and someone who he finds captivating as well as pretty.
As their relationship develops, they need to recover from old feelings and old relationships. Will Hank's ex be a threat? Lauren and Hank need to learn how to trust again, but that may take more time than they're willing to give.
Book Links
Website
Facebook
Twitter
Amazon Author Page
On Amazon
More Great Reads: