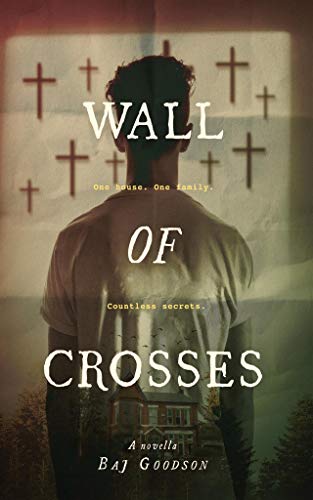 Wall of Crosses : Baj Goodson
Wall of Crosses
JACOB TAMBLYN is not in the business of keeping tabs on his dysfunctional family. But when his widowed grandfather passes away suddenly, the patriarch's last will and testament makes a substantial demand of Jacob and his estranged relatives: in order to claim their inheritances, everyone named in the will must work together long enough to clear out the home of the old man and his late wife.
ANDY TAMBLYN would love to know more about the family history that her husband, Jacob, refuses to divulge. Seeing the scenario as her big chance to glean better insight into her darling spouse, Andy joins him in the task–despite sentencing herself to the condemnation of her acerbic mother-in-law, Ruth.
But the assignment proves as overwhelming as it is dire when the family gathers in the house to find that their shrewd figurehead has spent the last year as a hoarder. Tensions rise and drama escalates as old grudges breathe new life, burdens exchange shoulders, and carefully buried secrets–the life-altering kind–threaten to come to light.
Book Links
Website
Facebook
Twitter
Pinterest
Instagram
Amazon Author Page
On Amazon
More Great Reads: