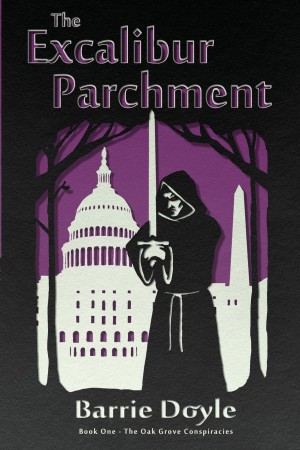 The Excalibur Parchment : Barrie Doyle
The Excalibur Parchment
When does a legend become reality?  A famous icon is now the tool to extinguish democracy and freedom across Europe and North America, destroy Christianity along with other religions and force a return to the supernatural bloody faith of the druids.
A lowly 12th century Welsh monk, Thomas, is assigned a task that sets in motion a horrific journey which will test his mettle, his faith and his abilities. He must protect the secret of Excalibur, King Arthur's sword, and keep it out of the hands of a cruel Druid who seeks the sword's mythical supernatural power.
Centuries later, American journalist Stone Wallace also has a mission:  to prove the existence of the sword, find it, and prevent global disaster at the hands of the reawakened Druids. From Washington to London and Venice to Wales, the hunt for Excalibur gets bloodier and bloodier.
The key is Excalibur.  Is it real? The battle is waged over two tumultuous centuries. Can the druids force modern societies to embrace their pagan, satanic religion and throw off democracy? Can Stone thwart terrorist attacks on Britain's Royal Family and will the US Presidency fall into Druid hands?
The Excalibur Parchment.  Book 1 of The Oak Grove Conspiracies.
Book Links
Website
Amazon Author Page
On Amazon
More Great Reads: