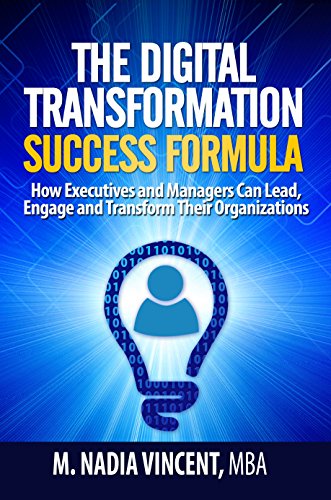 The Digital Transformation Success Formula : M. Nadia Vincent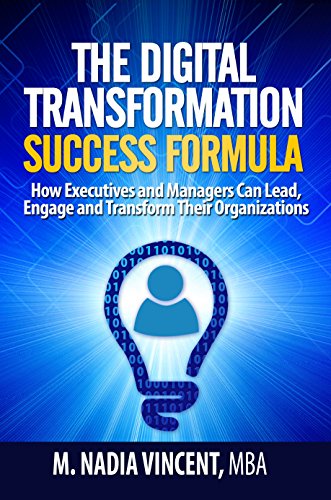 Digital transformation is business transformation for greater performance, using the latest digital technologies and strategic business innovation approach.
The Digital Transformation Success Formula by M. Nadia Vincent, foreword by David A. Maynard, is a professional and practical guide for leaders such as CIOs, IT managers, business executives and digital transformation leaders alike as they implement digital transformation in their organizations or businesses.
The Digital Transformation Success Formula is about:
Facilitating self-transformation for leaders so they inspire individual transformations in their organizations.
Creating environments that are efficient and promote business innovation and disruption.
Empowering leaders with a progressive mindset that embraces change so that they make better personal, business and digital choices.
Digitally enabling organizations for faster deliveries and increased business performance.
Reducing risks in the implementation of digital transformation.
Increasing employee engagement so that organizations are strengthened in the digital market.
Converting digital transformation and innovation into a lucrative investment for increased ROI.
The book is a solution-oriented, straight to the point read; yet written in a warm tone. It addresses points that sometimes we managers may not be comfortable speaking about, but are present and impactful in our everyday work.
Professional Reviews:
Engaging, insightful, brilliantly written and transformative! In her introduction Nadia speaks of having learned multiple languages through her international consulting career; In this book, she creates a whole new language for the rest of us to learn – that of digital transformation leadership. Consider this book your Rosetta Stone on how to become a true digital transformation leader. It's an honor and a privilege to consider Nadia a friend and mentor.
—Lawrence Cooper (Larry)The Agility Series Facilitator, Digital Transformer, and Author – Canada
As someone who has practiced digital transformation projects for nearly four decades, the premise of the success formula and the problems caused by fear are so important to recognize. Nadia takes us through a roadmap to digital transformation success through the recognition of the need to treat digital transformation as a project and to apply the soft skills needed to manage change and transformation. A very important book for someone undertaking a digital transformation project without the necessary foundation in place.
– Ray W. Frohnhoefer PMP, Managing Director, PPC Group, LLC – USA
"Fear" as the division in Nadia's success formula is genuine. That part alone is worth getting this book.
Nadia and I met at PMI Global Congress where a client of my company, the Department of Treasury, was presenting an enterprise project & portfolio management system we implemented. From my experiences working with large organizations, Nadia's unique angel and comprehensive approach for people planning and executing corporate change is invaluable. This book discusses a holistic approach-the mind, heart and muscles of digital transformation.
—Sophia Zhou CEO EPM Solutions, Author of I Can and I Will – USA
Nadia Vincent has encapsulated years of experience into a guide with the missing ingredient of most digital transformation projects – Great Leadership. Forget technology, only by leading an organisation through transformation, by instilling in your organisation the mindset required for continuous change, and overcoming the fear of the future, can you bring successful digital transformation to a business.
The Digital Transformation Success Formula provides a roadmap for technology and business leaders to ready their business for the future of constant change.
—Andrew Pryor Director CIO Watercooler – England
Book Links
Website
Facebook
Twitter
Linkedin
Buy from the author
Amazon Author Page
On Amazon
More Great Reads: