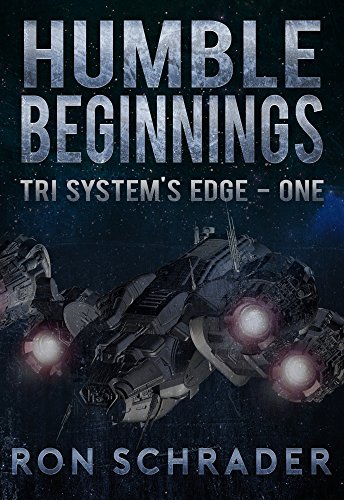 Tri System's Edge – Humble Beginnings : Ron Schrader
Tri System's Edge – Humble Beginnings
Paradise is a pretty deceptive name for such a deadly planet, infested with Vie. But the Tri Systems is a big place—three solar systems to be exact—and Kalla had no idea what Vie were until she was forced to land her ship where they lived and thrived.
This was supposed to be her last job, but fate had other plans for her. Now stranded on Paradise with a blown engine stabilizer, Kalla and her crew had no choice but to venture out into the open field in search of help. Before long, eerie sounds began echoing in the thick fog that surrounded them, but they were too far from the safety of the ship. The attack happened fast and left Kalla running for her life, lost and alone.
Trying to maintain order in the Tri Systems is no small job for The Directive. Chaos abounds with militias, smugglers, and criminals of the worst kind, all looking out for number one. Kalla's no different, but fate has other plans for her. When her ship crash lands on Paradise, the chain of events that follow put her on a path that could mean the end of the Tri Systems…or is it just the beginning?
Book Links
Website
Facebook
Twitter
Amazon Author Page
On Amazon
More Great Reads: