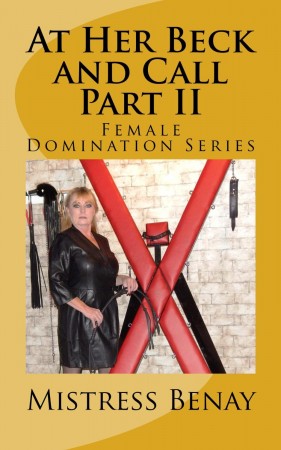 At Her Beck and Call – Part II : Mistress Benay
At Her Beck and Call – Part II
Mistress Benay is back with Part II of "At Her Beck and Call", her exciting new novel where She answers many of the questions which readers sent to her after her first book was published.
In Part II of "At Her Beck and Call", we find out much more about her personal slave Troy, and She gives us in-depth descriptions of the many Training and Punishment techniques She uses with him. The Mistress also describes for us the Male Chastity Techniques which She uses to keep her slave attentive and obedient at all times, as well as helpful tips for Women who have thought about introducing Male Chastity into their relationship with their husband or partner.
Mistress Benay takes us into her Dungeon as She describes, with all the exciting details, some of her Double Domination Sessions with Mistress Jill and Mistress Susan, her recent Cuckolding of her slave Troy, and She lays out a step by step guide for Females who want to take control of their Marriage or Relationship, and have their male kneeling at that feet, ready at their Beck and Call.
If you enjoyed her first book, you will absolutely love this bigger follow up novel by one of America's most Exciting Female Domination Authors. Only a Dominatrix with Mistress Benay's experience could present Female Domination and Male Chastity in such a simple to understand, Sensual, and Exciting manner.
Book Links
Goodreads
Amazon Author Page
On Amazon
More Great Reads: