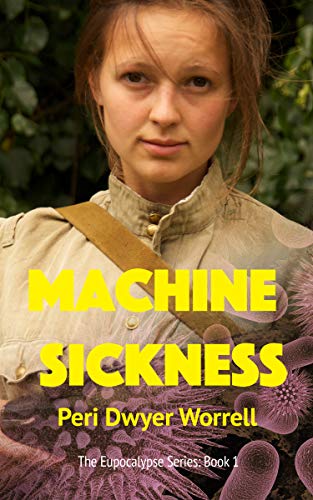 Machine Sickness : Peri Dwyer Worrell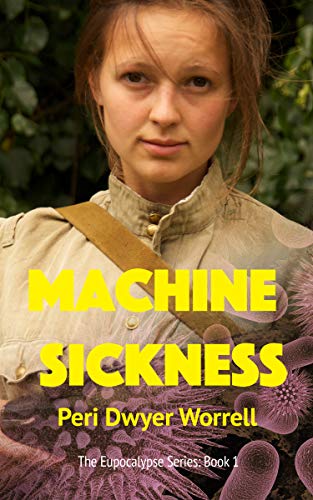 Global Destruction Introduced by a Simple Microbe
The genetically engineered bacterium was only supposed to clean up oil spills in the Gulf of Mexico. But suddenly, America's infrastructure and economy disintegrate! Machines grind to a halt. Roads crumble. Technology clicks off. Pipes burst. Human growth halts as bacterial growth soars.
Before anyone can get a handle on the disaster, the scientist responsible is kidnapped, imprisoned, and interrogated on suspicion of terrorism conspiracy by Federal police intelligence agents, and barely escapes alive–thanks to the disaster itself.
Can Dr. D. trust the virile Texan who finds her and tends her injuries? Can they fight their way across a volatile, changing landscape to reach the self-sufficient, secure, off-grid science haven, where the community may help cure the contagion? And will they even believe the story of how it started?
This adventure story's diverse characters view the cataclysm from a sweeping array of focus. The contagion builds rapidly from the first minor, puzzling changes to a colossal, fast-paced thriller of a story. Every person brings their own unique strengths to bear in surviving this massive environmental disaster, and some do not survive.
The accurate science underpinning the story puts it firmly in the hard-science-fiction world. The prescient tale of a bacterium that spreads through transmission from technology to hand and hand to technology.
This 2016 debut novel by Peri Dwyer Worrell, Machine Sickness builds and expands on such classic science fiction thrillers as Michael Crichton's Andromeda Strain, while packing a modern, post-apocalyptic, dystopian punch.
"If you like a good science-related suspense novel, you will love it. I know I can't wait to read the next two books in this series."
–The Grumpy Book Reviewer
"…the series is an enjoyable, elegantly written, and ultimately hopeful story about a tremendous, world-shattering catastrophe."–SciFi Magpie Blog
"The perfect thriller!" –AP Grell
"I can't wait for the movie!" –Amazon reviewer
Download the exciting adventure thriller, Machine Sickness, by sci-fi writer Peri Dwyer Worrell, and discover the pulse-pounding story right now!
*** ADVISORY: This book, like the sci-fi greats of the 60s and 70s, includes occasional profanity and a few graphic scenes of sex and violence. It also has a frank description of childbirth. It's recommended for readers age 18 and up. ***
Book Links
Website
Facebook
Twitter
Amazon Author Page
On Amazon
More Great Reads: