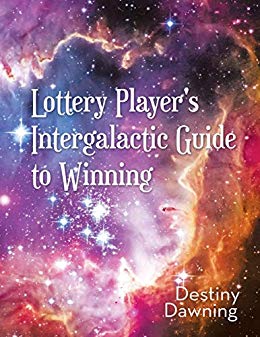 Lottery Player's Intergalactic Guide to Winning : Destiny Dawning
Lottery Player's Intergalactic Guide to Winning
This book is designed to help lottery players pick potentially winning lottery numbers by using methods not commonly known by many people.
This book is based on the ancient belief systems of Numerology, Astrology, and Tarot. I have used the methods in this book myself and have won money many times.
I have two Facebook blogs: Lottery Player's Intergalactic Guide to Winning and The Wheel in the Sky Keeps on Turning. I post relevant astrological information as well as My Mystic Musings for why I feel certain numbers were winning numbers on certain dates in the Mega Millions, Powerball, and Lucky for Life lottery drawings.
I would love to chat with anyone who decides to buy the book so I can give you suggestions on what numbers you might consider playing during certain time periods. This is covered in the book but I am more than happy to answer any questions to the best of my ability.
One of my favorite parts of the book is Chapter 12 "Fun with Holidays" where I show you the numbers I feel have a decent chance of being winning numbers. I always play on holidays and have won money by using the numbers in the book. Another important chapter in my opinion is Chapter 4 "Dowsing for Dollars".
I cannot count the number of times that I have won money by dowsing the numbers with my brass pendulum and a little help from my special friend Athena. Other important Chapters are 11 "Time Passages" and 13 "Winning Number Possibilities by Time Periods & Examples of Past Winning Numbers in Various Jackpot Drawings".
If you have even the slightest interest in spiritual subjects and magic, you may find the information contained in this book to be useful.
Book Links
Facebook 1
Facebook 2
Lulu
On Amazon
More Great Reads: