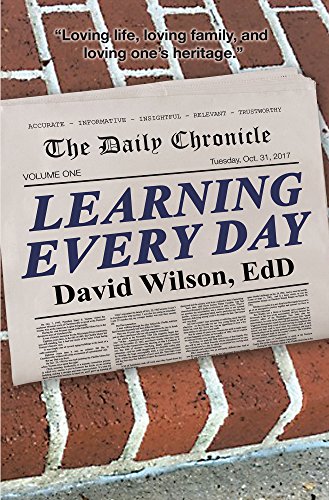 Learning Every Day : David Wilson
Learning Every Day
David Wilson grew up in Arkansas but worked 27 years in education in Missouri, so his roots are deep in the heart of America. And it is the very heart of America–its people, its traditions, and its values–that has deeply influenced his life, and his writing. You will see that when you read Learning Every Day, his first book.
It is a book about examining life, personal growth, education, history, family, faith, and communication. And it sometimes uses analogies from the world of sports or entertainment.
Dr. Wilson has been a construction worker, a journalist, a teacher, a principal, and a communications director, and has learned a great deal from people at every stop along the way. He has a deep respect for faith and honest introspection and it shows in his book.
Learning Every Day is organized into small, manageable parts, because it is loosely based on written pieces from an insightful weekly newspaper column that the author has produced for more than 12 years.
It is one of those books that you can read from cover-to-cover, or you can simply read the selections that seem most interesting.
You should try it. As the back cover states, "It provides plenty to think about, and it just might help you gain a better perspective."
Book Links
Website
Facebook
Google+
Amazon Author Page
On Amazon
More Great Reads: