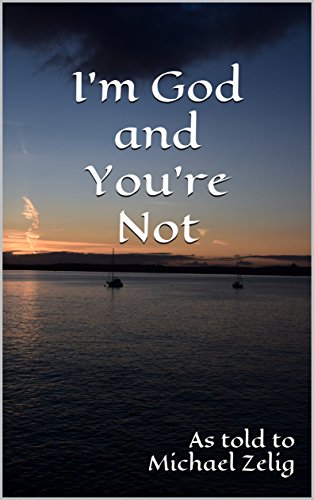 I'm God and You're Not : Michael Zelig
I'm God and You're Not
A book 6,000 years in the making.
Why was humanity created? How did Adam and Eve learn about sex? Was there really a Great Flood, and why do so many cultures have a story about it? What caused the destruction of Sodom and Gomorrah? What caused the ten plagues in Egypt? What are the actual Ten Commandments? Is there one true religion? Does God give a damn?
In "I'm God and You're Not", God—yes! The Big Fella himself—pulls no punches as He tells the truth behind these questions and so much more.
In this sometimes humorous, sometimes serious, and sometimes profane book, you'll also learn the real relationship between God and Lucifer and find out what is God's message to the human race.
WARNING!: THIS BOOK CONTAINS ADULT LANGUAGE THAT SOME MAY FIND PROFANE.
Book Links
Website
Facebook
Amazon Author Page
On Amazon
More Great Reads: