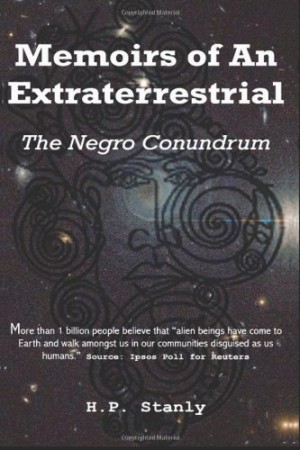 Memoirs Of An Extraterrestrial : H. P. Stanly
Memoirs Of An Extraterrestrial – The Negro Conundrum
Memoirs of An Extraterrestrial The Negro Conundrum is a compelling and at times outrageous collection of fictionalized stories, taken from the life and times of a circumspect extraterrestrial after he discovers—to his horror—that he has incarnated to Earth in the body of a Negro.
Homam, our extraterrestrial arrived to Earth's shores in December of 1953, the son of a white mother and Negro father fully conscious of his true nature as something other than what he appeared to be on the outside. Even his name came from a mysterious source. This wildly entertaining collection of personal memoirs deftly steps between the past and present, as Homam tells the story of his remarkable adventures on Earth, while struggling to find the meaning behind what he believes has been a gross mistake.
Growing up in a predominantly colored neighborhood, Homam was restless for a deep connection with others of his kind. But it wasn't until his family moved to a predominantly white-redneck town in Maryland, that Homam began to feel alive. His affinity toward white people contrasted with an inexplicable, searing dislike for Negroes—including his own father—serves as the catalyst for discovering his true identity. When the confrontations with his father turn violent, it is during these outbursts that Homam begins to see beyond the physical world, into another place in time that may hold the answers to his personal mystery.
Born with certain other-worldly abilities, which in many ways, makes him a perfect objective observer of the human condition, Homam uses these gifts on his journey towards a deeper understanding of his purpose, living a life precariously balanced on a razors edge between life and death. From a career as a insurance salesman, to Executive Producer for a nationally syndicated television show, Homam leaves a swath of transformed souls—most unaware of his extraterrestrial origins, but changed never-the-less by merely entering into his sphere of influence. He even befriends members of the Ku Klux Klan and manages to inspire them to rethink ideas foisted upon them by their fathers from birth.
His search for answers deposits him in the midst of numerous bizarre encounters within the world of spirits and the paranormal. One such foray finds him confronting an evil unknown to modern man that has been lurking in the shadows for thousands of years, waiting to snatch the lives of unsuspecting human hosts.
Memoirs Of An Extraterrestrial The Negro Conundrum is truly a balls-to-the-wall, take-no-prisoners, adult adventure, with lots of twists and turns as Homam explores the depths of gritty human emotions and relationships that lead this unwitting extraterrestrial, as well as the Reader on an entertaining journey to understand who and what we all are beneath these outer facades made from flesh. Because if it's one thing, Homam wants to prove above everything else about his life here on Earth; is that he's not just another Negro.
Book Links
Blog
Facebook
YouTube
On Amazon
More Great Reads: