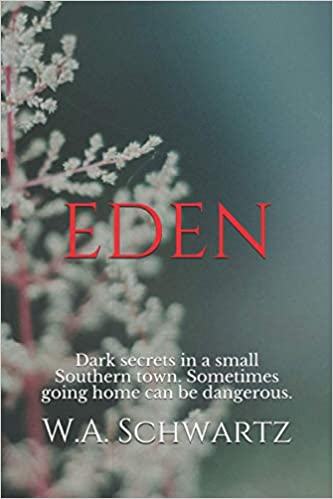 EDEN: A Novel : W. A. Schwartz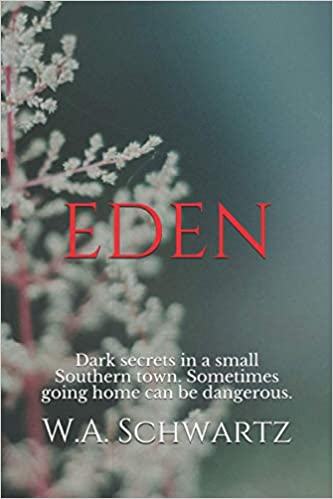 Dark secrets and psychological suspense unfold over a half-century in the lives of a deeply troubled yet tightly woven Louisiana family.
It's been thirty years since Evelyn Yates's sister disappeared mysteriously from their home in tiny rural Eden, Louisiana, and twenty since Evelyn fled Louisiana to escape the demons of her past. When a body is discovered on the grounds of her childhood home, Evelyn is forced to make an impossible choice. Returning to Eden means facing her fears that something sinister awaits, perhaps something she is unable to remember. Her fragile internal world is suddenly threatened with collapse by this discovery and the pressure to return home to help identify the remains.
The discovery of the body sets in motion a series of events leading inevitably to the uncovering of secrets dating back multiple generations; terrible events that may involve the entire town of Eden. As Evelyn pursues the answers to the mysteries presented she finds her sanity, her life, and the life of her daughter threatened. She must face truths more terrible than she could have imagined. Ultimately she must peel back the layers of her own consciousness, face her memories, and delve deeper into painful questions about her sister, and finally herself.
Set against a background thick and sensuous with Southern beauty and imagery—the live oak and Spanish moss and cypress swamps play roles nearly as big as the characters themselves—the book explores the devastating nature of secrets as a silent conspiracy between generations and the ultimate power of love to overcome. Told in W.A. Schwartz's elegant, witty prose, EDEN is at once a sweeping family saga, a compelling mystery, and the story of one woman's heart-breaking and yet triumphant personal journey.
What readers are saying about EDEN: A Novel
Mesmerizing tale…gripping throughout! As a native of Louisiana, I found this author described the commonplace, unexceptional view of my world as a magical, mysterious place. A treasure trove of characters, some too familiar. Goodreads Reviewer Five Stars
An intelligent, fast-paced thriller with well-drawn sympathetic, flawed characters and authentic southern Louisiana atmosphere. A great read-into-late night novel. Goodreads Reviewer Five Stars
The characters are well written, their misery and fears overwhelming. Lots of surprises and twists. Well done! Goodreads Reviewer Five Stars
Book Links
Website
Facebook
Twitter
Instagram
Goodreads
Amazon Author Page
On Amazon
More Great Reads: