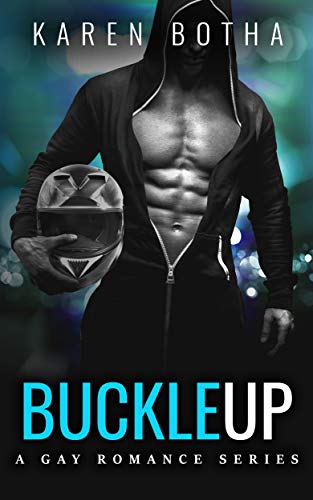 Buckle Up
Passion, lust and desire are the fuel that drives us. So, buckle up for the ride of your life.
Elliott Judd is a superstar race car driver and hotter than hell. Men and women fall at his feet and he enjoys the easy pickings. No one has tamed this wild stallion, but is he ready to settle down for the right person?
Kyle Beaumont, a straight mechanic with a body to die for joins the racing team of his dreams, and with his mind fixed on the job, he doesn't realise that he is Elliott's next trophy of choice.
As the racing season and the fight to be the world number one starts, so too does Elliott's game of seduction.
Will Elliott crash and burn, or will Kyle succumb to this gorgeous man's onslaught?
Buckle Up is the first book in a gay romance series by Karen Botha and a story of unlikely love. The series is free on Kindle Unlimited.
Download your copy of Buckle Up now.
Book Links
Website
Facebook
Twitter
Goodreads
Amazon Author Page
On Amazon
More Great Reads: