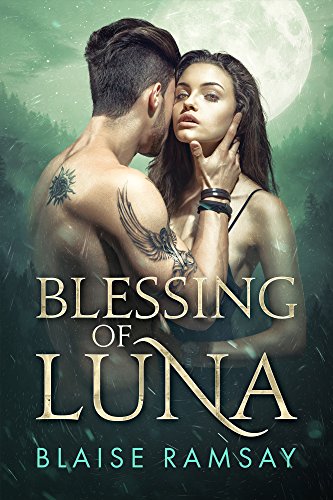 Blessing of Luna : Blaise Ramsay
Blessing of Luna
Damien Pierce wasn't like normal people. Since he was young, he learned that he had the uncanny ability to heal himself almost immediately. At fifteen, he astounded the small town of Big Timber, Montana when an SUV hit him only to find he survived the encounter without suffering any major injuries.
After moving away for ten years, losing his mother and slipping into a deep sense of depression, Damien's father moves them back home in an attempt to give Damien a sense of normalcy.
Enter Jillian Styles, the immortal, beautiful lycan that has been looking for the soul of her long, lost lover who after many years of being reborn into new bodies, his soul simply vanishes into the tides of time. When Jill first sees Damien, she knows immediately he is the one she had been looking for.
When an old enemy begins re-igniting the flames of a centuries old war, Damien must come to grips with a cruel fact that he is not human while nurturing feelings for the beautiful woman who captured his affection.
Now Damien must delve deeper into the world of the supernatural with the help of the mysterious Alexander Kain and Jillian.
He's about to learn, the secret sleeping within him is much more than he ever could have imagined.
It has made him the target of a very vindictive dark god bent on taking revenge.
Book Links
Website
Twitter
Instagram
Goodreads
Amazon Author Page
On Amazon
More Great Reads: