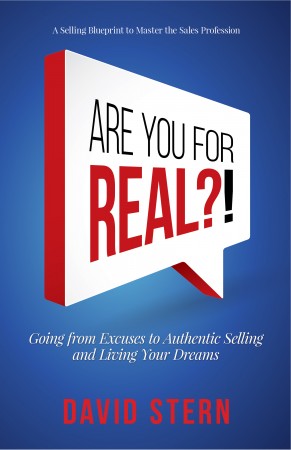 Are You For Real?! : David Stern
Are You For Real?! Going from Excuses to Authentic Selling and Living Your Dreams
"The business of selling brings freedom—it allows you to live your dreams."- David Stern
David Stern discovered the value of freedom that a career in sales affords. Born to business-owning Holocaust survivor parents, he helped his parents with their small business before starting his own entrepreneurial venture at the age of 15.
Now, after more than forty years in sales, he shows audiences and coaching clients their opportunity of freedom through mastering the strategies of selling.
At the heart of his sales philosophy is the question, "ARE YOU FOR REAL?!" (The title of David's book) This question embodies the essence of selling—nothing happens until you are honest, authentic, and confident.
In this book, David shares his wisdom and sales secrets, tells humorous and inspiring stories, and asks introspective questions to guide you on the path to success.
In ARE YOU FOR REAL?! you will discover how to:
Deal with and dispose of your excuses once and for all
Find perpetual job security through sales
Sell yourself to sell your product
Master effective communication skills
Being persistent without being "pushy"
Develop essential negotiation and decision-making skills
Set realistic short-term goals while focusing on the big picture
Plan for success and prepare for the unexpected
Create a work/life balance through proper time-management
No more layoffs, tyrannical bosses, or the 9 to 5 grind. Freedom awaits you, and it begins by saying "Yes" to sales and getting real.
Book Links
Website
Facebook
Twitter
Amazon Author Page
On Amazon
More Great Reads: