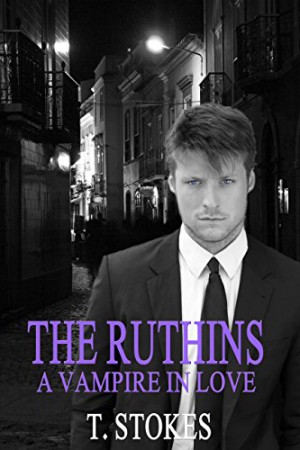 Devon Ruthin and a Vampire in Love
This adult paranormal romance/urban fantasy is the first volume in The Ruthin Trilogy.
Bliss is lonely and taking chances when she goes off on holiday and meets the man of her dreams, Devon Ruthin. She is trying to replicate the life of a character in a book she has read recently, and without realizing it, she enters a twilight world. A world filled with strange people, beautiful powerful beings who seem to be the saviours of the man she falls in love with. This is a darker tale than first meets the eye, and as the story unfolds, it becomes obvious that the beautiful people, who are seemingly so wonderful, have secrets of their own.
On her journey, Bliss encounters the pale and attractive Drew. It seems fate has a trick up its sleeve when we discover that he has met the mysterious people before. The chance meeting with Bliss sets off a series of actions by Drew that uncovers a hidden past belonging to Devon.
This is a love story, a story of revenge, hope, violence, immortality, and fate.
Who ends up losing their life or their love?
Is Devon as free as he thinks?
Follow the incorrigible, dangerous, and strangely loveable Drew in his quest to recapture a lost love.
"I apologise for being so rude, not introducing myself, it just slipped my mind. Bliss, that's an interesting name, evocative, hopeful, soft, you can almost taste it as you say the name. I imagine it has caused some comment from people you have encountered in your life," he said gently.
Bliss watched his expression, he was tasting her name she thought, it scared her a little, and yet she liked what he had said about her name, others had made fun.
Devon reacted at a phenomenal speed. He struck the vampire in the throat with his bare hand, his extreme strength, and skill born of age, cut the head of this vampire right off. The one with the ability to move things hurled a barrel at Devon from a distance, Devon moved and the barrel hit the flagstones and shattered spilling its contents across them.
When he had finally told her his name, as she heard it, a shiver went down her spine. She did not know the origins of that shiver, other than she found his name to be as sexy as he was. He in turn had enthused over her name when she had told it to him in a return of information.
"Bliss, Bliss, Bliss", he had said. "It sounds as if it could be the name of an exotic new drink, a cocktail". He had smiled again at her and in her innocence, Bliss believed his sincerity.
Pearl loved Greta, but Greta was both a lover of men and women, and Pearl wanted exclusivity, not in a relationship but in the fundamental sexual preference of her lovers. She had never analysed this she just knew it. So whilst she and Greta met every week, read and talked, fed and had some wild sex they would never live together.
All the same he wandered out to look at Bliss, he went close to her, and took advantage of the fact she was tied hand and foot to kiss her. Bliss moved her face quickly but he jerked it back and kissed her lips.
"Bliss you are lovely, I'm sorry it had to be like this but as they say all's fair in love and war, and this is about a love and a war".
Editorial extra
I have to say I enjoyed writing this book immensely. I began to like the main vampire character even though I had started out to dislike him. Oddly, towards the end of the book I like him more than the other main male character. It's his complex and unpredictable vampire character which still retains some kind of vulnerable quality although he is dangerous that I like. The story is much darker than might first appear and I wonder if, plus hope, readers will get the irony within the plots. I also hope readers will appreciate the title, which I thought about for a long time. It reflects the duality of Drew and tells us how different Devon sees himself from Drew. The vampire community was such fun to formulate and I wanted them all to have retained human behaviours and characteristics. There are many people that I have actually met combined into the group of characters in the book, naturally no one person is described wholly but especially within the vampire community traits are sprinkled across the 'players'.
The book is adult paranormal romance, so we have love, sex, romance, lies, trickery, magic, strange beings, vampire killings, and fun.
From reviews;
"The best vampire book I've read since Dracula"
"I love the paranormal romance/urban fantasy genre so I knew I had to give this book a try. It was well worth it! This book is dangerous, fun, mysterious, and an absolute page-turner with sizzling HOT romance. I fell in love with the sexy Devon Ruthin."
Book Links
Author Blog
Facebook
Twitter
Author Website