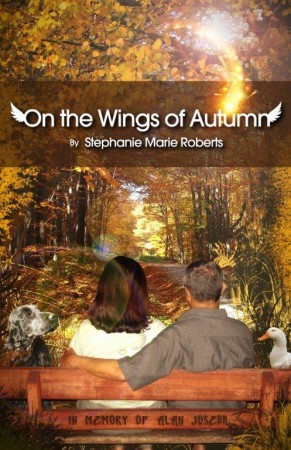 On the Wings of Autumn
UNIQUE LOVE STORY – JUST OUT!
Inspired by True Experiences
OVERWHELMING REVIEWS!
ONE WOMAN.
TWO GOOD MEN.
A HAUNTING LOVE TRIANGLE.
Stephanie enjoys her life as a successful entrepreneur in Australia. When she returns to visit her native India, to seek a cure for her beloved dog, it is during the Festival of Holi–the celebration of colours. Young and old flirt and misbehave in the streets, enjoying an uninhibited sexual atmosphere.
And it is there that she sees him again…
Surely, it couldn't be Tics–not the great love of her youth!
Familiar shivers run up her spine. It's been ten long years. But despite the rekindled feelings of attraction, there is also the harsh memory of his betrayal.
And Stephanie is married now …
ON THE WINGS OF AUTUMN transports you from the lush, idyllic countryside of The Hunter Valley and Canberra in Australia, to the exotic ambiance of Bangalore, India. It's more than the chronicle of one young woman's personal journey through life.
It's the tale of her search for purpose.
Of her quest for unconditional, unlimited love.
Of a uniquely unforgettable romantic triangle.
Stephanie Marie Roberts makes her grand debut with a poignant and passionate novel, inspired by true experiences from her own life.
If you've enjoyed The Notebook, The Lucky One, and Dear John by Nicholas Sparks, you will be captivated by ON THE WINGS OF AUTUMN.
Book Links
Facebook
Facebook Page
Twitter
On Amazon