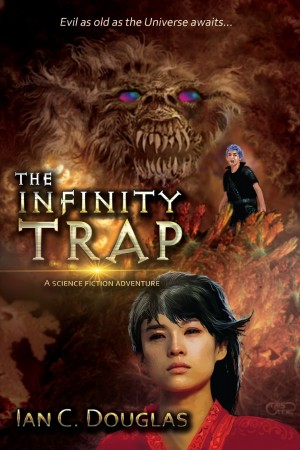 The Infinity Trap : Ian C Douglas
How far would you go to find your missing father?
For Zeke Hailey, a teenager living in the 23rd century, even Mars is not too far. Zeke's dad is one of the Mariners, a mysterious elite of psychics who have conquered Outer Space. Now he's vanished on a secret mission.
But Zeke is an ordinary schoolboy without a shred of his father's psychic powers. Armed with nothing but his wits, he bluffs his way into the prestigious Mariner's school on Mars in search of answers. Mind-reading teachers and psychokinetic bullies are the least of his worries. A ruthless archaeologist is seeking the Infinity Trap, an ancient machine of unimaginable power and lair to an evil as old as the Universe. An alien artifact downloads the language of the long-dead Martians into Zeke's brain. Thanks to this newfound skill, Zeke alone understands the apocalyptic danger about to be unleashed.
Not only must Zeke rescue his friends, but humanity itself. If he can first survive a planet filled with demons, outlaws, and androids, not to mention quicksand and dust storms. And, as the odds stack against him, will Zeke make the ultimate sacrifice- his father?
Gravity's Eye and Electron's Blade by Ian C Douglas are also on Whizbuzz Books.
Book Links
Website (author)
Website (books)
Facebook
Twitter
Amazon Author Page
On Amazon UK
On Amazon
More Great Reads: